Mission Statement
Provide for the protection and preservation of life and property, mindful of acceptable levels of risk, by maintaining the highest standards of emergency medical services, fire suppression, fire prevention, education, and safety programs.
---

A message from Fire Chief Rick Dawson
Jackson Township is celebrating its 200th anniversary in 2015. It is hard to imagine how different life was in 1815, just a dozen years after Ohio became a state. The fire department has changed a great deal since its founding in 1936 as the Grove City-Jackson Township Fire Department with Olen Rumsfeld as chief.
Back then, our fire department was the only one operating west of the Scioto River outside the Columbus city limits. There was one fire station located on the current site of the Grove City Library where firefighters would meet when called to a fire and respond on a 1922 Reo-Seagrave pumper.
The Jackson Township Fire Department was formed in May 1945, and 11 years later, a new engine house was opened on South Broadway. In 1957, the department put its first emergency squad into service staffed solely by volunteers.
As the City of Grove City, Village of Urbancrest and Jackson Township continued to grow, the fire department constantly adjusted to the shifting population by ensuring fire stations were as accessible as possible to the population. Jackson Township's grand opening of Station 204 on Buckeye Parkway was May 3, 2014, and firefighter/paramedics have taken about 50 emergency runs per week since it opened.
This much-needed station was the first additional fire station for the fire department since 1978 when Station 203 was added. In our business, response time is critical, and we are now able to better serve our residents. A breakdown of the 2,079 Station 204 emergency responses through Feb. 28, 2015 follows: Fire: 228 (11 percent); Fire/EMS: 379 (18 percent); and EMS: 1,472 (71 percent).
Station 204 also was instrumental in helping the fire department achieve an improved (Level 2) ISO rating putting us in the top 1.5 percent of all fire departments in the United States. This rating helps insurance companies establish appropriate premiums for residential and commercial properties, and benefits Jackson Township residents because insurance companies know that we are able to quickly respond to emergencies throughout
the township.
We are proud of our long history of service to our residents and look forward to continuing to exceed your expectations for years to come.
---
Firefighters visit homeowners to check smoke alarms
A group of 25 firefighter/paramedics and volunteers from the American Red Cross (Ohio Buckeye Region), and local businesses canvassed Urbancrest and adjacent portions of Grove City Oct. 17, 2015 as part of a Home Fire Preparedness Initiative. Jackson Township firefighters installed 115 new smoke detectors in homes.
Read more at http://bit.ly/RCJaxTwp.
---
Congratulations Firefighter of the Year Mark Flowers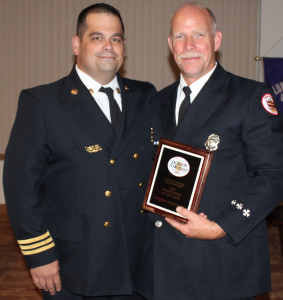 Jackson Township firefighter Mark Flowers is pictured with his Battalion Chief Chuck Strader (left) at the 2015 Jackson Township Division of Fire Awards Banquet held May 29, 2015. 
---
2015 Public Service Announcements