Mission Statement
Provide for the protection and preservation of life and property, mindful of acceptable levels of risk, by maintaining the highest standards of emergency medical services, fire suppression, fire prevention, education, and safety programs.
---

A message from Fire Chief Randy Little
In 1946, the Jackson Township Fire Department was formed with the mission of delivering the highest quality service possible to the citizens of our community. At that time, the department was staffed by volunteers. The level of commitment needed to fulfill this mission was high, and volunteer firefighters were up to the task.
Today much has changed. We now operate four full-time fire stations, but the level of commitment and dedication to delivering that same high quality of service by our firefighters and paramedics remains the same as it was more than 70 years ago.
Whether it is fire, medical, rescue, public education or fire prevention, our staff is dedicated to serving you with professionalism and excellence. Our highly trained professionals are always looking for ways to increase our value and service to the members of our community utilizing the most cost-effective means possible.
Please let us know how we can better serve you and your family. You can reach me at (614) 945-5049.
---
Operation Medicine Drop April 23, 2016 at Station 202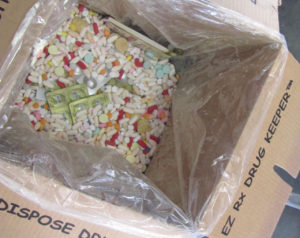 Medicine plays an important role in treating many conditions and diseases, but when it is expired or no longer needed it is very important to dispose of medication properly. Area residents are encourage to bring expired or unwanted prescription and over-the-counter medications to Operation Medicine Drop from 9 a.m. to 1 p.m. April 23, 2016 to Jackson Township Fire Station 202 at 3650 Hoover Road in Grove City, Ohio.
Collected pills and powders, including pet medicine, will be disposed of in a safe and environmentally protective manner. Potential health hazards and safety issues caused by disposing of drugs in toilets or landfills are averted, and empty bottles and containers shredded.
Operation Medicine Drop is sponsored by the City of Grove City, Grove City Division of Police, Jackson Township Fire Department, Giant Eagle and Keep Grove City Beautiful. This service is free and anonymous with no questions asked.
Anyone unable to attend Operation Medicine Drop may anonymously dispose of medications at the Grove City Division of Police Drug Drop Box accessible 24/7 in the Grove City Safety Complex at 3360 Park St. in Grove City, Ohio.
For more information about Operation Medicine Drop, call (614) 875-5588 or (614) 277-3058.
---
2016 Safety Town online registration available
Safety Town 2016 will be held June 9-10, 2016 and June 13-17, 2016 at JC Sommer Elementary School in Grove City, Ohio. There will be morning and afternoon sessions, and every prekindergarten child registered will be guaranteed a spot. Online registration is available at www.gcsafetytown.org.
Safety Town is a summertime safety program designed to teach children who are preparing to enter kindergarten basic safety concepts while at the same time allowing them a "preview" of what it will be like to be in school. Safety Town is a program of the Jackson Township Professional Firefighters Local 2672, and is presented in cooperation with the Jackson Township Division of Fire and Grove City Division of Police.
---
2015 Public Service Announcements